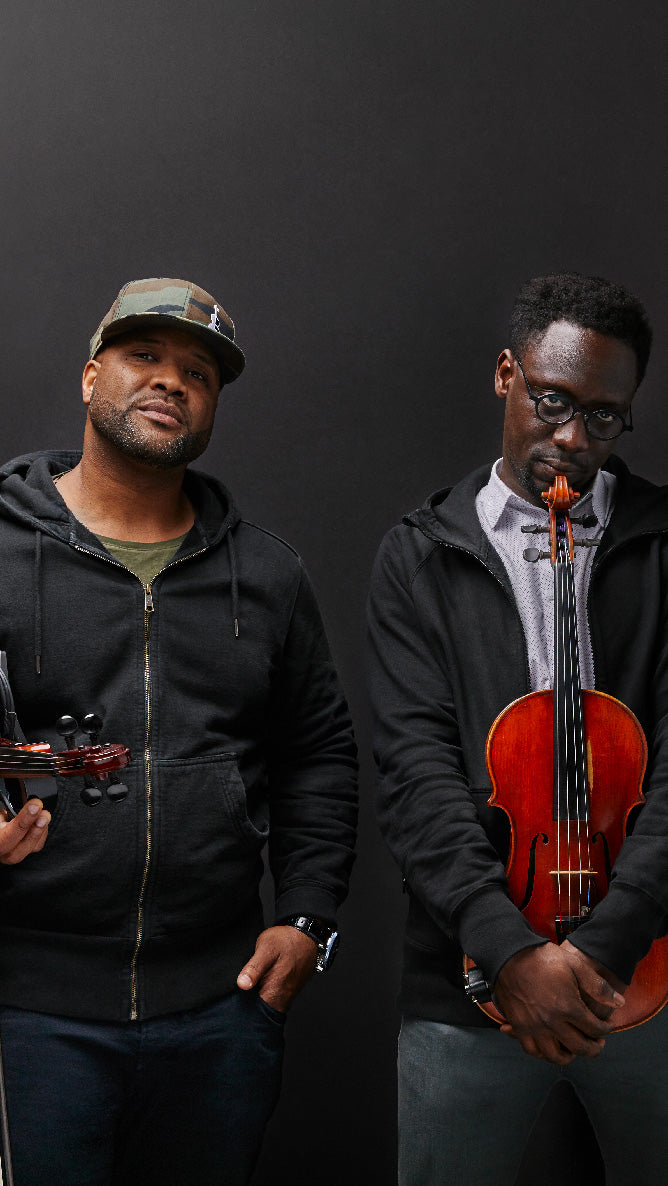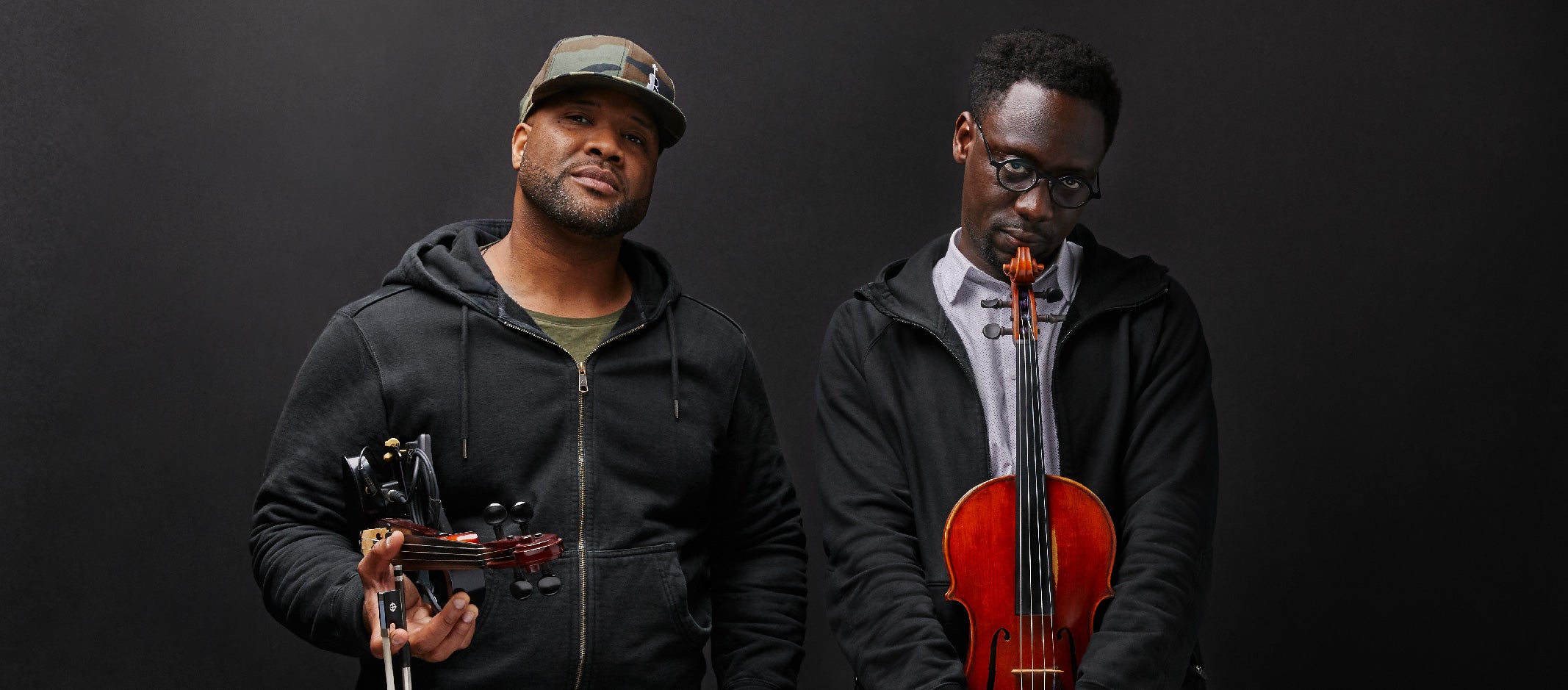 BLACK VIOLIN
A NEW BEAT
For more than a dozen years, Kev Marcus and Wil Baptiste have been busy challenging conventions and breaking stereotypes. Their genre bending duo, Black Violin, has been pushing traditional boundaries of classical, hip-hop, jazz, and pop music, all while occupying a creative lane entirely their own.

Their success has allowed them to play with a diverse set of artists including Alicia Keys, Linkin Park, the Wu-Tang Clan, 2 Chainz, Lil Wayne, P. Diddy, Kanye West, 50 Cent, Tom Petty, Aerosmith, Aretha Franklin, and many more. They tour nonstop, and their music has taken them to Iraq to play for our troops, to selling out two nights at the Kennedy Center, and to performing at the White House for President Obama's second inauguration. But before all of that, they were just a couple of kids growing up in Florida with too much time on their hands.
When Marcus was nine years old, his mother caught him stealing and put him in a weekend music program, thinking it would help dissuade him from hanging out with the neighborhood's rougher crowd. Baptiste had wanted to play saxophone, but was placed in his school's stringed instrument class by mistake.

Both reacted as most boys would, straining against the rigor of demanding practice, wanting to be outside instead of practicing scales and studying music theory. But as their talent and hard work began to pay off, it was clear that they had a gift. They also both loved music, whether it was the hip-hop filling their headphones on the way home from school, or the concertos they were mastering in class.


They attended Dillard High School for the Performing Arts in Fort Lauderdale and met in orchestra class. There they bonded over what they were playing and listening to, the role music had played in their lives, and the stereotypes they were breaking, just by being themselves. These self-described "orchestra nerds" had grown into 6'2" young men and didn't look like your typical violinists. This gave them a special power, a way to catch people off guard, open up their perspectives a little, and cast off a few stereotypes along the way.

The growing friendship was filled with Bach, Beethoven, and Mozart during the day, but Biggie and Tupac after school. Through their shared love of music they began experimenting with marrying these musical genres together, eventually formalizing their sound as the duo Black Violin.
Playing publicly grew their confidence and popularity, but they never lost sight of the importance of their music education. They couldn't help but notice the gradual defunding of music programs. They saw disappearing opportunities for exposing children to the arts, something which had affected their own lives so profoundly.

They wanted to do something about it, and the Black Violin Foundation followed. It's dedicated to providing grants to help young people pursue innovative musical paths regardless of their socioeconomic circumstances. "Our goal is to be able to provide a leg up to kids that are incredibly talented but just are missing something. They're trying to apply for a music camp, but they just don't have the funds, or they're trying to audition for a college, but they need a better instrument. So we try to fill in the gaps as much as we can," says Marcus as they sat with us in our San Francisco offices. "We understand how important art education is, how positive it is, because we're literally the product of it. So for us it's necessary."


Today, their relentless touring schedule takes them deep into urban communities with numerous free performances for kids, connecting with more than 100,000 students annually at mostly low-income and Title 1 schools. Their foundation is helping to bridge the gap for students at struggling schools and to boost academic achievement and engagement through music. Along the way they continue to produce chart topping albums like their 2015 release Stereotypes and their recently released Take the Stairs that debuted #1 on Billboard Classical chart, #1 on Classical Crossover chart, and #7 on the R&B/Hip-Hop chart.
"Whoever you are, whether you're yellow, purple, black, young, 5, 70, whatever, just come have a good time, and, hopefully, you're educated, entertained, and inspired." Black Violin serves us all a reminder of the impact we can have when we act, and the healing that follows when we shatter stereotypes.

To learn more about Black Violin and their foundation, visit blackviolin.net and blackviolinfoundation.org