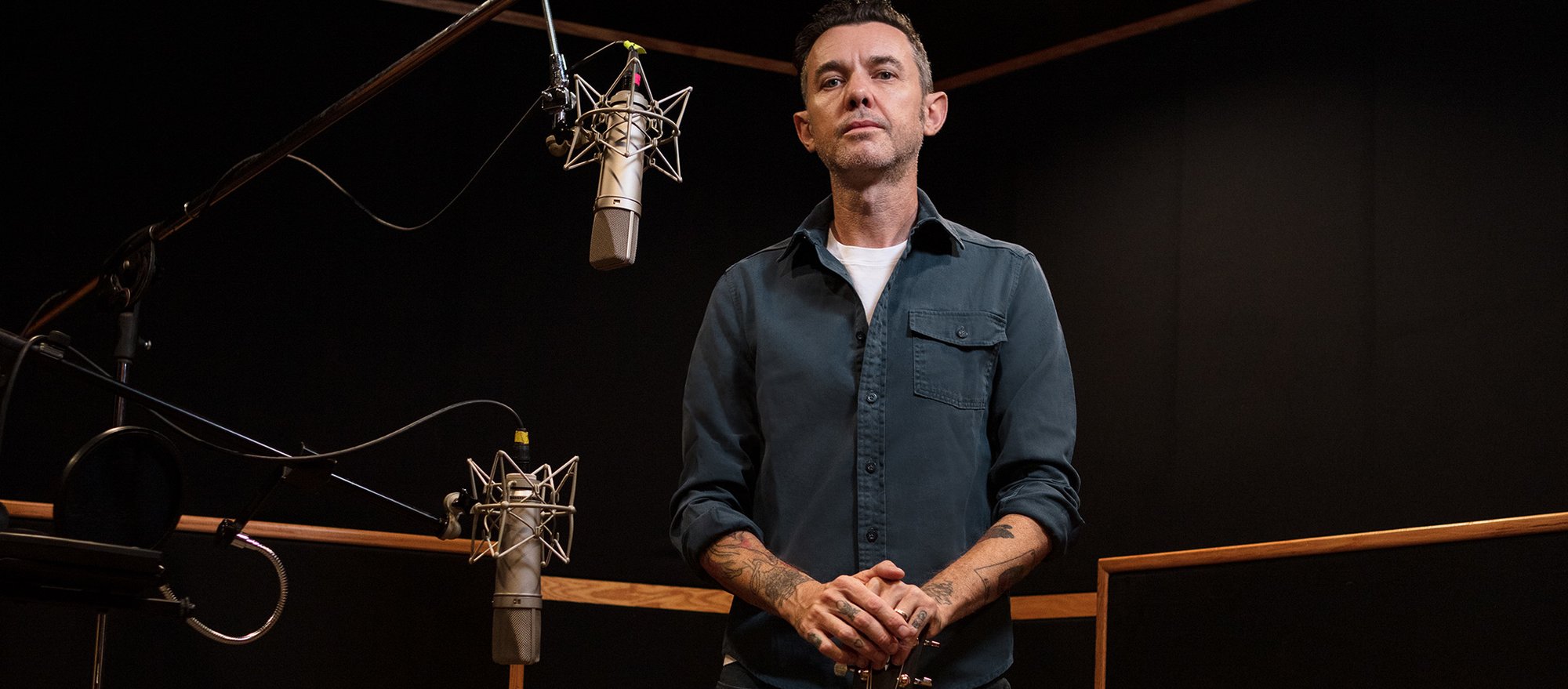 FOREVER INSPIRED BY EL PASO
JIM WARD IS AN AMERICAN MUSICIAN. HE'S LEAD SINGER AND RHYTHM GUITARIST OF THE POST-HARDCORE BAND SPARTA. ALONGSIDE HIS COLLABORATORS, JIM MAKES EXPANSIVE, POWERFUL MUSIC AS EVIDENCED ON JIM'S LATEST SOLO ALBUM, DAGGERS (2021). HIS DEEP COMMITMENT TO MAKING GREAT SONGS, AS WELL AS HIS CONNECTION TO EL PASO, WHERE OUR ROUGHNECK PANT IS MADE, INSPIRED AMERICAN GIANT TO REACH OUT TO HIM.
AMERICAN GIANT (AG): How did El Paso shape you as a musician?
JIM WARD (JW): When I was coming up in the 1990's, there really was no Internet/email/social media. We still ordered LPs from the back of magazines. We only really saw bands that came through El Paso, which were mostly DIY bands. We are a pretty geographically isolated city, and I think that really informed who I am as a musician. We learned on our own, there weren't a lot of older bands. When kids would graduate from high school, they often moved to Austin or elsewhere... so the scene sort of reinvented itself quite often. It forced us to learn on our own and that made a lot of unique bands. We also would all play shows together — there were not individual scenes — you would see punk rock, ska, metal all in the same night, often with members intermixed. Lots of us played in different bands simultaneously.
AG: What do people from elsewhere not know about El Paso? What's your favorite spot — street, intersection, place, venue — in El Paso? Why?
JW: I love Memorial Park, I spent the first 9 years of my life a block from there and it holds a certain spot in my heart. When the sun goes behind the mountain, the east side of town gets a beautiful glow — I love that. And when it rains the desert has a unique smell, it is intoxicating. I will always be in love with crossing the bridges into Juarez, there is a spirit of adventure and excitement that takes me over as I head over to the Kentucky Club for a couple drinks with friends. The desert can be brutal and beautiful all at once, and I believe that is the charm.
AG: What would you say are the core character traits of El Paso? What qualities define the place?
JW: I think kindness defines our city. It will be the thing that visitors comment on the most — everyone is so nice here. We are a humble and hardworking city.
AG: What does your community mean to you and how do you give back?
JW: My community means everything to me. It is a unique and beautiful intersection of cultures and people, the border of the north and the south, of the US and Mexico. I don't know that we really identify as either, but as a combination of the two worlds. The community is a living, breathing being to me and I am a part of it. I take from it and give back to it. I play shows to raise money for local non-profits like Creative Kids and I proudly serve on the El Paso Community Foundation as a board member. My wife Kristine and I volunteer at El Pasoans Fighting Hunger Food Bank. Our restaurant Eloise is a space for community meetings as well as raising money for local projects through a percentage of sales or donations. We work with our elected leaders to build voter awareness and participation (we are both volunteer deputy registrars). Krisitine and I have a fund, Because of You, that uses music events to raise money for regional needs, including You Rock! our inclusive girls summer rock camp starting in 2022. I am endlessly inspired by my community, I take inspiration from it and do my best to give back.
AG: How did you learn to make music?
JW: I am pretty much self taught — punk rock is a fertile ground if you have the interest. I was obsessed with figuring it out, how do you make a song, a band, a tour, a record... I still am. I think it is a lifelong journey and I couldn't think of anything else I would rather be doing.
AG: How do you think about the role of craftsmanship in music? How does it affect the quality of the end result?
JW: The great thing about music is that you can write a riff in 2 minutes and throw some words on and it can be the greatest song you've ever written, or you can toil over a part for months or years and finally finish it... and it is the greatest thing you ever wrote. There is no formula for music, because it is built on inspiration (at least for me). I take it seriously as long as I don't release anything I am not proud of. It doesn't matter to me if you like it or not, it is whether or not I am proud of it. The craft of songwriting to me is really about the attention to inspiration — there are only 12 notes, it's how those notes, in what order, give you goosebumps. I will play and play until something moves me. Sometimes it takes 2 minutes, sometimes 10 years, but it has to move me.
AG: What are the qualities of a song (or album) that stands the test of time?
JW: I think when you are inspired and you follow that inspiration it will stand the test — anytime I have succumbed to the pressure of "just get it done" it doesn't end well. The business side of music has a lot of good and bad qualities — the "just get it done" part is the worst to me.
AG: Do you think about the listener when you create? What are you trying to deliver them?
JW: Never. I try to make something that excites me. I have written hundreds and hundreds of songs. Sometimes they make it on a record, sometimes they get put back on the shelf until I can find the next step. I believe the songs know where they want to go, I am just trying to figure that out. As far as listeners, I am humbled and so grateful that my music and the music I have been a part of has found a home in so many people's hearts but I have no idea how to make that happen... it just happens, the songs do it.
AG: Tell us a bit about the ideas and inspiration behind Daggers?
JW: Daggers came out of nowhere and everywhere all at once. It was written and recorded in about three weeks during 2020. I was trying to return to the part of making music that keeps me mentally healthy. I was stressed with tours being canceled and our restaurant being pulverized by the lockdowns. I just wanted to feel good, and making music makes me feel good. All of a sudden I had a bunch of songs and my friends Tucker Rule and Ben Kenney were kind enough to record the drums and bass. This record is 100% friendship to me, which is the best kind of record.
AG: Any current or upcoming projects you'd like to share with our audience?
JW: I am going to tour Daggers with a three piece band, for an indefinite amount of time. I will probably make more records during that time. I look forward to returning to the road and playing these songs, Sparta songs, and songs from my other solo releases to folks in person. I can't wait, thanks so much for showing off my city. El Paso forever!